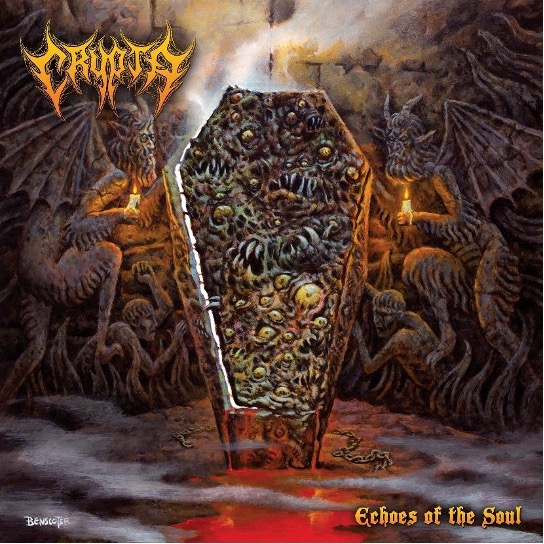 CRYPTA (Death Metal, Brésil / Pays-Bas) publiera son premier album, Echoes Of The Soul, le 11 juin prochain chez Napalm Records aux formats CD, LP, cassette et digital.
Formé en juin 2019, le quartet est constitué de Fernanda Lira au chant et à la basse, de Luana Dametto à la batterie (toutes deux anciennes membres du groupe de Thrash NERVOSA), ainsi que des guitaristes Sonia Anubis (Cobra Spell, Ex-Burning Witches) et Tainá Bergamaschi (Ex-Hagbard).
Echoes of the Soul a été enregistré en janvier 2021 au Family Mob Studio (Brésil), mixé par Arthur Rizk (Code Orange, Power Trip) et masterisé par le fameux Jens Bogren (Opeth, Dimmu Borgir, Sepultura). La pochette de l'album a été réalisée par Wes Benscoter (SLAYER, KREATOR, BLACK SABBATH).
Tracklist :
Awakening
Starvation
Possessed
Death Arcana
Shadow Within
Under the Black Wings
Kali
Blood Stained Heritage
Dark Night of the Soul
From the Ashes
Retrouvez le clip vidéo de "From The Ashes" dans le détail de la news.
La chanteuse et bassiste Fernanda Lira à propos du premier single :
"Ce morceau parle de la légende bien connue du phénix, mais avec une approche davantage philosophique. Il traite des cycles de vie en constante évolution, des nombreuses fins et débuts que nous devons traverser, du nombre d'anciennes versions de nous-mêmes qui doivent mourir au sens figuré pour que nous continuions à grandir et à évoluer en tant qu'êtres humains, et enfin, de bâtir une résilience pour endurer toutes ces renaissances."
Précommandes